Welcome back !
Today I'm gonna talk about something I just LOVE : LAN party !
I used to organise a lot of LAN party with my friends, and for that we did a LOT of research for fun, cheap/free games to play on a LAN party, so I had to write an article to share some of the best stuff we found ! (and yeah I love to write "LAN" with cappital letters !).
So you want to organise a little lan ? For like 10 persons ? your friends don't all have a f$cking alienware and 300$ to put on a lan week end ? Here you go ;)
I'm gonna start with some advices to keep in mind, and then a little cheap and free games selection !
(I just love that pic !)
4 tips to make a great LAN party :
1) You need an ethernet switch + ethernet cables : to be honest with you, I don't know so much about that, the only one I've ever bought was the cheapiest available, with cheap ethernet cables : never had any problems with it. So maybe they are some better switch etc...but really ? Unless you want to organise a 100 persons LAN party, just go with the cheapiest with the number of slots you want !
Don't ever try to play a "LAN party" on wifi...it can work, but trust me, it sucks !
2) Then you need a place to setup your awesome cheap LAN party. Here there isn't real advices I can give you. Just make sure that everybody can sit well in front of his computer and that nobody can watch somebody screen too easily !
3) Choose the games BEFORE you LAN party ! If you do so, you'll be able to set up tournaments (1V1, 2V2, 3V3 etc...) and also to install the games on everybody's computers before the LAN party, you'll just earn a lot of time, and then you'll be able to use this time to play HARD !
4) Being an even number of player is always better for playing any games. If you can't, well it can work (I've done it several times, sometimes it's fine, sometimes it's a nightmare...). Don't say "sorry man you can't come to my LAN party, we need to be an even number of players", say "WE NEED MOAR PLAYERS!!!"
Anybody who had already organised a LAN party know about this stuff, so here's I guess the most important part : the GAMES !
So just because I have to say it, here you'll find cheap or free games, that don't require a brand new computer, so it will be easier to find people to play with !
tip : I've tried all of the games here, so they are all 100% compatible for LAN playing
- FPS :
Unreal Tournament (Classic / 2K4)
Why the two versions ? Well it depends on the computers you have. I think most of the computers can run the 2K4 easily now, it add a lot of the contents such as vehicles, new games mode etc...But the "classic" UT is still a great game, make your choice, it's a classic nervous FPS you got here.
This game is pure FUN ! This is a classic FPS, you run, you shoot and your guns are bigger and bigger ! The real great part of this game is the co-op mode, you can do the entire solo campaign with up to 16 players !! A classic LAN party game.
Why this game here ? Well this game is one of my favorite on a LAN because of the scary part of it ! It's a great game to play in the dark, trying to scare your friends etc..When I was young, we used to play it while listening to horror movies Ost...EPIC !
- STRATEGY :
Warcraft 3 (fun maps) / Starcraft
Ok so here it's not really my type of games, I'm more like a FPS fan, but RTS are well recognized multiplayer games. I've only really played Warcraft 3 funmaps and the first Stacraft on a LAN party, they are really cheap and you can find a LOT of maps for free on the internet, you can choose to play some fast games or little "scenario" (in Warcraft 3) to play for hours.
- MISC. :
Flatout 2 is just AWESOME on a LAn party, I had to say it first because a lot of people just don't want to play games like this on a lan. In fact, you have to know that there is a classic race mode, pretty fun because you can smash your friend's cars, and a "destruction derby" mode, on the last one you just have to smash your friend's cars in arena. That's the perfect game to take a break, since everybody can play it easily !
BONUS : FREE GAMES + LINKS !
Poker TH : really light and cool poker game, perfect to play some fast poker games

Tee Worlds : nice 2D action game with a lot of skill ! Really small but it can be addictive !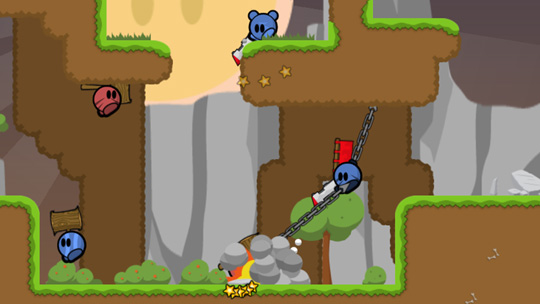 Bontago : great puzzle game, you really have to try it to see if you like it or not. Very fun anyway !
Warsow : you don't want to pay for a quake - like ? This one is free, it really looks nice and it has all you can want from a FPS game !
So I'm done here, I just love to have LAN party and I hope you'll have FUN doing it !
Bye!
ps : If you have some more great LAN games, just post it in the comments ;)